Soulja Boy or Bad Boy?
Soulja Boy, a popular rapper, was arrested Tuesday morning after a search of the Cadillac Escalade limo he was in produced five plus ounces of marijuana and $40,000 in cash.  Furthermore, it appears the rapper likes to live up to his name because three handguns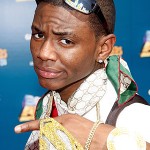 were also found in his possession. What was supposed to be a routine traffic stop for a nonworking headlight resulted in the arrest of the 21 year old and four other men in Temple, Georgia.
According to reports, police searched the car when a "strong odor" of marijuana was detected. Subsequently, a briefcase that belonged to Soulja Boy was discovered with the marijuana and guns, as well as his passport. Although the evidence only clearly incriminates Soulja Boy, the other four men were also arrested and charged due to discrepancies in their stories.
In the end, before being released on a $10,000 bond, Soulja Boy was charged with felony possession of marijuana, possession with the intent to distribute and felony possession of a weapon in commission of a crime each carrying a penalty of 1 to 10 years of jail time.
In this instance, initial contact was made due to a mere broken headlight but soon turned serious after police felt like they had probable cause to search his car.
To quote his popular song "Folks, I see you tryna do like me".  My recommendation as an attorney is – Don't.